If you ever have a chance to visit Cork you will find St. Barre's Cathedral tucked away near the heart of  the city in the South side of the River Lee. The looming spires are easy to spot in the sky line but navigating through Cork's one way system and the narrow streets is another story!  Still, it's a worthy pursuit to visit as part of an organized tour or, if you are exploring on your own. The Neo-Gothic style Cathedral was the project of  the English architect William Burges and it was completed in 1879. Built with local Cork limestone and marble, the building is a marvel to behold and contains some of the most magnificent stain glass windows with interesting biblical themes.
Our guide reminded us us that just like so many great cathedrals, it's also a keeper of secrets. I loved the amusing story about the woman who was eves dropping to a Free Mason meeting inside the Cathedral, and she had to be invited as it's first female member rather than have her divulge it's secrets. Or, one of my other favorite stories was from the Seige of Cork in 1690 and the 24lb cannon ball hanging up at the back of the church.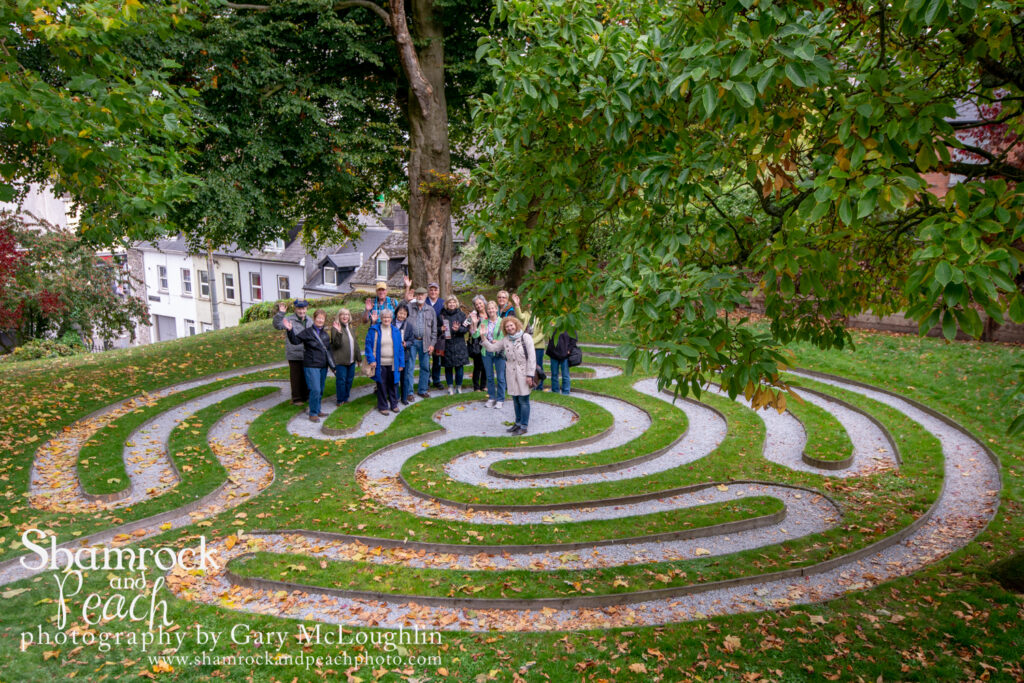 Finally, my other surprising highlight is walking the labyrinth at the back of the church – a perfect way to end your visit.  Legend has it that the actual site was founded by the city's patron Saint Finn Barre and  so there are…absolutely, no surprises we will be returning again next July on our Summer Elegance tour… and I cannot wait to go again to discover more about this magnificent keeper of secrets.
Shamrock and Peach