Happy New Year everyone, and yes I know I grabbed your attention with that headline, right? – Fear not though, I'm not about to advocate for Irish lawyers everywhere, but instead start the new year with a fabulous seafood recipe called 'Dublin Lawyer' which is really a lobster dish with an incredible Irish Whiskey cream sauce, so read on…
We started our journey as fresh faced Irish immigrants in Boston over 20 years ago, and during those heady days we had the chance to enjoy several weekend getaways in Maine. I will never forget those New England dinners when we feasted on the freshest of fisherman's catches of simply boiled lobster, dipped in golden butter. Lobster is certainly the most decadent meat of choice for anyone and worthy of special occasions and this recipe will give it the Irish spin it deserves.
This recipe was created using frozen lobster tails imported directly from Maine to Atlanta, Georgia and as I mentioned above, we are  serving the grilled lobster tails with a decadent Irish Whiskey Cream Sauce we call "the Dublin Lawyer" in Ireland.  The name is supposed derived from the lawyers who are 'rich'-  and enjoy 'a wee dram of whiskey' –  just like this sauce!
Here's my easy grilled version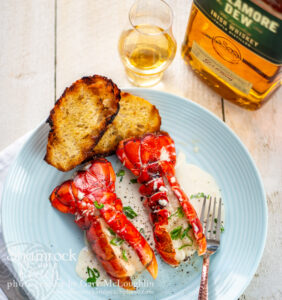 (recipe serves 2- 4 people)
4 (7 oz cold water lobster tails) thawed from frozen
4 slices of rustic sour dough bread (for sopping)
(garlic butter)
4 Tbs unsalted butter
1 clove of garlic
¼ tsp of salt and freshly ground black pepper
(whiskey cream sauce)
1 Tbsp of butter
1 clove of garlic
4 Tbsp of Irish whiskey
5 Tbsp heavy cream
1 Tbsp fresh lemon juice
1 Tbs finely chopped chives
How to make it
Preheat grill to medium high heat.
To prepare the lobster for grilling using kitchen scissors cut through the back of the lobster tails lengthwise, stopping when the tail fin has been reached. Using a knife cut the lobster tails down the line cut with scissors to expose the lobster for more even cooking.
Brush the lobster generously with the garlic butter. Place the lobster meat side down first and grill for around 4-5 minutes base with more lemon garlic butter and turn them over to cook for another 4 minutes.  The flesh will be white and pink and firm to the touch when ready.
Brush the sourdough bread with the garlic butter and place on the grill to toast and lightly char.
To make the Dublin Lawyer sauce heat the butter until foaming in a skillet over medium high heat and add the garlic. Add the whiskey to the pan (tilting it towards the flame to ignite).  Once the flames have died add the cream and allow it to reduce for a few minutes cooking until the sauce begins to slightly thicken.  Add the freshly squeezed lemon juice and stir.
To serve place the lobster tail in a bowl, pour the sauce over the cooked lobster tails and serve with a piece of sourdough toast for sopping.
Enjoy, and start the year as a Dublin lawyer, why not! ….  Judith (Shamrock and Peach)